Passed unanimously by Congress and signed into law by President Bill Clinton on December 17, 1993, PL 103-199 created the Victims of Communism Memorial Foundation. The legislation authorized the design and construction of the Victims of Communism Memorial in Washington, D.C. for and with the participation of "all groups that have suffered under communism."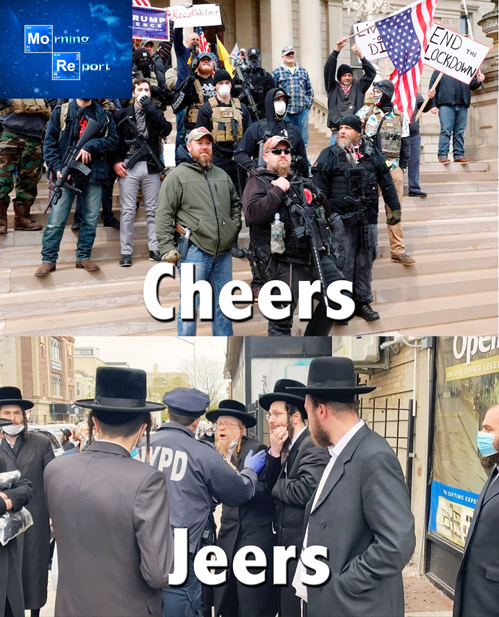 Friday, and another grim milestone of yet another day and another month of America held hostage. Yet there are a number of very big things happening that lets me be just a bit cautiously optimistic.

- Open and growing protests against blue state tyranny.

- Open revolt in some Democrat/Leftist quarters against covering up Joe Biden's alleged sexual assault.

- Smoking gun proof that key FBI and IC personnel conspired to frame General Mike Flynn as a means to ultimately overthrow President Trump. And this reaches all the way to Obama...and Biden.
The Morning Report - 5/1/20
By J.J. Sefton
Let's take it from the top and go category by category and the most immediate matter, the GOP-led Michigan legislature has rejected Gruppenfuhrer Gauleiter Gretchen Whitmer's call for a 28-day lockdown extension and instead will sue to put an end to her power grab. As the debate was happening, hundreds of Michiganders, some armed and most not wearing the idiotic face masks entered the capital building to protest both the governor as well as a court ruling that rubber-stamped her trampling of the Constitution. It must be emphasized that, unlike Leftists, the protest was completely peaceful and orderly. The open carrying of firearms was not just a stunt; it's a reminder to those like Whitmer and her ilk of what the Second Amendment is all about. I hope and pray to G-d Almighty that we never have to invoke it but the ball is in the Democrats' court.
Meanwhile back in my hometown of Brooklyn, where after singling out and threatening the Hassidic Jewish community for holding a funeral, the cops were seen harassing residents of Borough Park, with one person evidently arrested. I'm frankly disgusted that the NYPD, after being treated like excrement by Bill De Bolshevik for years, didn't turn their backs on him and ignore his evil anti-Semitic edict, when turning their backs on him actually counted for something. That is something that I will not forgive or forget. Sadly, there is no Rabbi Meir Kahane around to march on Gracie Mansion they way they did in Michigan.
Over in California, Nancy's Boy nancy-boy Newsom was indignant that 80,000 Californians, sick to death of being cooped up as the weather turns warm and sunny enough to actually help kill off the Peking Pox, hit the beaches. So he retaliated by closing off all the beaches and public parks. But it turns out, the order only showed up in Orange County, which, despite the disaster of the 2018 midterms, is still fairly conservative. The weather's only going to get warmer. We'll see if tempers heat up as well.
Despite my consternation at the President for his rebuke of Georgia Governor Brian Kemp, perhaps all of this, minus the destruction of the entire economy, is playing in his favor. The media can try and blame him all the want but the fact of the matter is scum like De Bolshevik, Whitmer and Newsom are the face of this. In this case, all politics really is local. I'm not saying that New York or California are going to suddenly turn GOP overnight, but June would be a good time for a Trump rally in those states and Michigan. The evidence grows more incontestable as each day passes; Chinese Lung AIDS may very well be highly contagious but its lethality is nowhere near an extinction-level pathogen that warranted putting America under house arrest. The truth is, if it really was that lethal, the economy would have shut down all by itself owing to the hundreds of thousands of unburied bodies in the streets.
I think it is time for the President to use his incredible skills as a communicator to start communicating these truths to the American people. Even for him, it will be an incredibly daunting task given that the media has scared much of the nation out of his wits, along with the President himself. At least at the outset. But he and we have to now get beyond this. There is no justification for the continued lockdowns. We have got to get back to work and start the process of rebuilding our lives. That is the essence of human nature. To deny that or attempt to restrain it is evil. And the crisis we should not let go to waste is the defanging of the Democrat-Media Complex and the bureaucratic deep state so it can never again put a knife to our throats. There's also the friggin' Red Chinese which I ranted about yesterday.
Lift the lockdowns. Liberate America.

STRUGGLE FOR LOCKDOWN LIBERATION
NOTE: The opinions expressed in some links may or may not reflect my own. I include them because of their relevance to the discussion of a particular issue.
ALSO: The Morning Report is cross-posted at CutJibNewsletter.com if you want to continue the conversation all day.
Follow us on Twitter: @CutJibNews
Reminder: May 1st is Remembrance of Victims of Communism Day

Do you like this post?