DeSantis says feds "pushing sexual topics onto children"
Jul. 21, 2023 - TALLAHASSEE – Florida leaders reacted to the news of VP Kamala Harris visiting Florida. READ IT ALL
Ron DeSantis @RonDeSantis

Democrats like Kamala Harris have to lie about Florida's educational standards to cover for their agenda of indoctrinating students and pushing sexual topics onto children. Florida stands in their way and we will continue to expose their agenda and their lies. . 

12:56 PM · Jul 21, 2023
Florida Republican Party Chairman Christian Ziegler

said Harris's visit to Florida is "another political stunt ..  in order to lecture Floridian parents that their children belong to the government and the government has a right to indoctrinate and sexualize our children"
Bedminster, NJ — President Donald J. Trump, 45th President of the United States of America, hosted a screening of the film Sound of Freedom at Trump National Golf Club Bedminster on July 19, 2023.
WATCH - President Trump was joined at the screening by producer Eduardo Verástegui, Jim Caviezel and Tim Ballard.
The film is based on the true story of federal agent Tim Ballard's mission to save children from child sex traffickers in Colombia.
.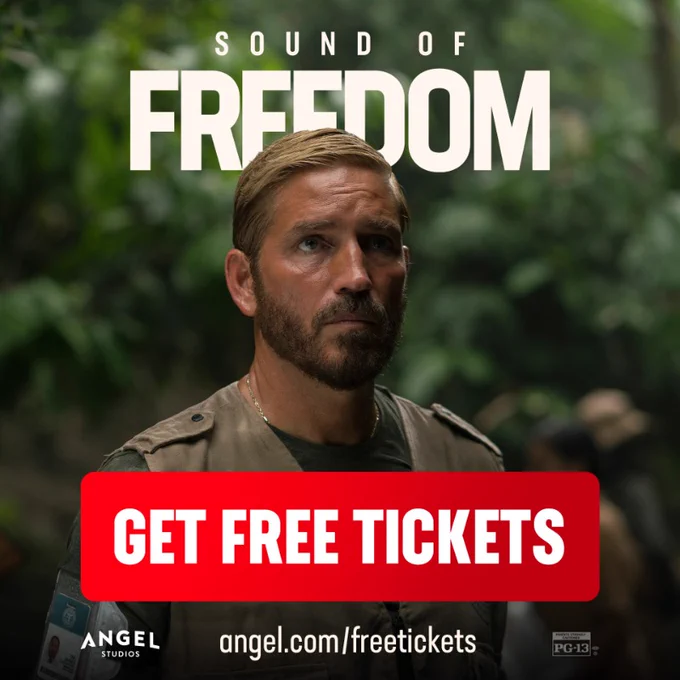 "I really didn't want to see this movie. Does anyone want to see a movie about horrific crimes against children and the systems that support or fail to stop child sex trafficking? But I felt an obligation to support "Sound of Freedom (watch trailer). And I was happy to hear the buzz in the conservative media sphere. "Sound of Freedom" was making noise in all the right places. I still don't quite understand how I left the theater feeling hopeful. Here are five impressions this movie left on me, and I hope they inspire you to see the movie."
1.

 

"God's children are not for sale."
This is the motivation for the main character to move beyond the soul crushing work of tracking organized pedophile networks to rescuing their victims. "Sound of Freedom" made me reflect, once again, on the work we ask others to do in our name: policing, soldiering, guarding. It is hard work, mostly done by men, who lay down their lives to protect and serve others. We ask them to deal with many of the things we do not want to face. Many do this work because of a higher calling, one that needs our support in prayer.
2. "I feel like she's my daughter."
Mrs. Tim Ballard texts this message to her husband while he is away searching for a victim. Her love and support for him and his work is beautifully communicated in this movie. She is also asked to bear part of the burden her husband shoulders on our behalf. She represents a much larger group of people who deserve our gratitude and our prayers.
3. "I was that darkness."
A man contemplates his role as a consumer in the adult sex industry. His redemption from direct involvement is by the grace of God. But this character made me think about what I could or should be doing to address this grave injustice against women and men, girls and boys. At a minimum, opposing the legalization of "sex work" would be a start. Removing pornography and pornographic content from school libraries and curricula is also imperative.
4. "You're on your own, Tim."
Government redress of grievances is limited. Tim Ballard, the main character, had to operate on his own to follow the call to protect God's children. But as Christians we have an obligation to prove that Tim is not alone. Each of us is called to combat the sex industry, whether through promoting organizations like Covenant Eyes that guard against pornography, by speaking out against endeavors to normalize pedophilia, or simply by living a life that upholds the dignity of every male and every female as a human being — not objects for exploitation.
5. "Could you sleep if your child's bed was empty?"
The plea of a father for his trafficked daughter. This theme was the main reason for my initial reluctance to see the film. And it was one of the reasons why, if I had to see it, I would see it in a theater. Hearing a question like that asked in a movie theater for me is very different from hearing it asked in my living room, with my own children's beds right upstairs.
This movie is a remarkable work of art about a horrific topic. I'm grateful to Angel Studios for distributing the movie, and I encourage you to see it. I am glad I did.
Author . Meg Kilgannon
Do you like this post?