By Congressman Michael Waltz (R-FL.CD6)
The average American interacts with satellites 36 times a day. Every time you check the weather, search for a spot to grab your morning coffee or send a text message, you're getting hands-on with the space industry.
Space doesn't just impact our personal lives though – it affects our national security too. Our banking, stock market and modern global logistics systems – not to mention the military – are all dependent on space assets.
Here in Florida, we've seen the impacts of space firsthand. Our Space Coast was the home of the first American suborbital flight. We were also home to the first American to orbit the earth. In 1969 – 50 years ago this summer – our astronauts blasted off from Cape Canaveral and landed on the moon. For 30 years, America was a force to be reckoned with in space. In 2024, we're going back to the moon.
Florida universities like Embry-Riddle Aeronautical University, here in Daytona Beach, lead the world in training premier aviation and aerospace talent. This talent which is incredibly in demand considering the Federal Aviation Administration anticipates 44 space launches in 2019 and one a week (56 annually) by 2021.
Unfortunately, the U.S. space program has fallen behind. It drastically stalled under President Obama and where the U.S. lagged, adversaries like Russia and China moved in, making significant investments to militarize their space programs – all with the goal of dominating America in space.
These countries are treating space as a war fighting domain. We must take meaningful action to do the same.
Our state – specifically Volusia and Flagler counties – is positioned to play a critical role in this next space race. Space commerce should be a welcomed economic driver considering recent U.S. Census data shows booming population growth to our north and south and consistent growth in Volusia and Flagler. That's why the first bill I introduced would establish a U.S. Space Command and strengthen my bipartisan efforts to headquarter Space Command in Florida. It's also why I fought hard to win a seat on the House Armed Services and Space Committees with oversight of both military and civilian space programs.
President Trump's leadership has reignited American space competitiveness and I'm proud to support his efforts to establish a U.S. Space Command — and to create a sixth branch of the military known as the Space Force.
I'm also thrilled to see the private sector taking such a groundbreaking role in this exciting new sector of our economy. Its involvement and success in commercial space has energized the STEM community, driving us to a new space renaissance.
While the private sector has galvanized a renewed interest in space, the government must also allow for innovation and keep pace by updating commercial regulations and providing adequate guidance.
This administration understands the stakes. It has acted accordingly, proposing rules for "Streamlined Launch and Reentry Licensing Requirements" through the FAA.
Space is expected to be a $2.7 trillion industry by 2045. As this effort moves through the Congress and the Pentagon, we cannot allow party affiliation to distract us from the serious defense needs that impact all of us. We must understand space isn't a partisan issue — it's a national security issue.
As threats to our networks increase, space development is essential for the United States to remain competitive. This is an opportunity for us to continue to lead. I know we have the intelligence, willpower and drive to make that happen.
Florida also has the opportunity to excel. Gov. Ron DeSantis, Space Florida, the President, our congressional delegation and local officials are all working together with the President and NASA to ensure Florida is a key player in the space race. Our district – specifically Volusia and Flagler counties – is also destined to play a big role in the space race. We have the talent, institutions, expertise and infrastructure to seize the moment.
The 21st-century space race is on and with strong leadership, Florida will lead the way.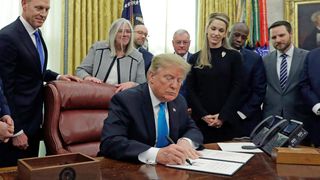 Do you like this post?